I'm Headed to DC for the Annual March for Life/Quoted in Article on China's Forced Abortion
01/20/2011
Happy 2011! I trust that you're doing well. I believe God has great things in store for the coming year. Let's continue to stand for truth and justice and fight for human rights in the womb!
I'd like to share with you a pro-life reflection from my friend and associate Fr. Frank Pavone:
Reflection: Dr. Alveda King, niece of Martin Luther King, Jr., while marching at the annual March for Life (in Washington DC) was asked,
"Does this remind you of the civil rights movement and the marches with your uncle?" Her response was, "This is the civil rights movement."
The message of Martin Luther King was not just about equality of our black brothers and sisters; it was about the equality of all our brothers and sisters. Civil rights begin with the right to life.
This is a powerful reflection worthy of our attention as we near the Roe v. Wade memorial on January 22.
This coming Friday I'll be flying out to our nation's capitol to attend the National March for Life. I'll be attending and speaking at numerous events in Washington DC. I always consider it an honor and a profound calling to be a voice for the voiceless.
If you're interested, I'll be posting updates on my trip to DC on my Facebook page.
For info on the March in Washington DC, Idaho or in your area please click on the following links:
www.MarchForLife.org
www.RTLI.org
www.MarchForLife2011.com
I encourage you to attend your local March or Walk for Life. Just like those marching against racism and segregation, we have an opportunity to create change…equal rights for pre-born people.
The following is an article (I'm quoted in) regarding Chinese President Hu's visit to America this week. My associate in Washington DC, Rev. Patrick Mahoney, Director of the Christian Defense Coalition, held a very powerful "witness" in front of the White House.
Human Rights Activist Risks Arrest at White House
http://www.charismamag.com/index.php/news/29994-human-rights-activist-risk-arrest-at-white-house
Charisma News Online – Written by Jennifer LeClaire – Tuesday, Jan. 18, 2011
A single chair and pictures of Nobel Prize Laureate Liu Xiaboo with a Christian woman who was brutally beaten by the Chinese government. Those are the elements of a peaceful protest that Rev. Patrick Mahoney, director of the Christian Defense Coalition, plans to launch this morning in front of the White House.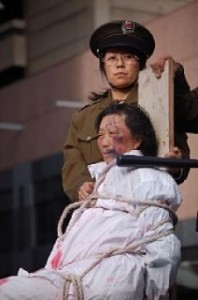 The demonstration, which Mahoney is planning in a "no demonstration" zone, comes a day before Chinese President Hu Jintao will visit the White House. Mahoney will kneel in prayer on the chair, knowing that his actions could land him in jail.
"We are calling upon President Obama to publicly, passionately and boldly speak out against the human and religious rights abuses by the Chinese government against their own people when President Hu Jintao visits the White House this week," Mahoney says.
"Sadly, the Obama Administration has remained painfully silent when it comes to the China's utter disregard for human rights and religious freedom. He has refused to speak out against their policy of forced abortion and gendercide against Chinese women."
Mahoney says the empty chair represents all those who could never attend a State Dinner because they are being persecuted and in prison for their religious and political beliefs. The demonstration also represents the empty chair from the Noble Peace prize ceremony in Oslo, Norway when Xiaobo could not accept the award because the Chinese government had imprisoned him for speaking out for freedom and democratic reforms in China.
Brandi Swindell, founder of Stanton Healthcare and Generation Life and a participant in the demonstrations at the Beijing Olympics, says it is critical that Obama take this historic opportunity to speak out in support of human rights and justice in China during the visit of Hu.
"When I traveled to China, I determined to be a voice for those who had no voice for themselves and to be a public witness against the oppression and brutality of the Chinese government against their own people," Swindell says.
"As a woman, I am especially concerned with China's policy of forced abortion and gendercide. Sadly, the women of China are treated as second class citizens with no say in their personal and private family decisions. Sadly, this gender discrimination opens up young girls to human and sex trafficking. Also, young newborn girls are routinely thrown on the side of the road and left to die because rural Chinese families prefer males."
Mahoney has a 25-year record of leading protests and speaking out against the human rights abuses of the Chinese government and was part of a delegation that led demonstrations in Tiananmen Square during the 2008 Beijing Olympic Games. Mahoney and the delegation were arrested, dragged out of Tiananmen Square twice and finally deported and thrown out of China.
For the Voiceless,
Brandi